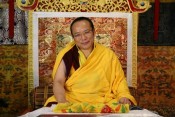 Today, as soon as it was heard that the precious life of Chӧjé Akong Rinpoché had abruptly been cut short, terrible distress was felt everywhere.  I want to offer my condolences first of all to the Abbot of Kagyu Samye Ling, Akong Rinpoché's younger brother, Chӧjé Lama Yeshe Losal Rinpoché; to Rinpoché's wife, sons and daughter and all his other relatives; to the monks and nuns of Samyé Ling; to all the directors and faithful disciples of its associated dharma centres and their branches in other countries West and East and especially on Holy Isle.  At the same time I want also to express my deepest, heart-felt sympathy because the great monastic seat of Palpung and Dolma Lhakang of Tsawa Gang have been like a mother-centre and its branch, connected by a strong link of pure Dharma and Samaya over many generations.  Likewise, I offer my deepest heart-felt sympathy to the directors, workers and sponsors of ROKPA International and Tara Rokpa; to the many institutions founded or supported in the three main areas of Tibet by the late Akong Rinpoché – about two hundred schools, non-sectarian monastic communities and monastic colleges (shédra), clinics, care for the elderly, TB care centres, care for orphans and so forth.
First establishing a temple in the West, the late Very Venerable Chӧjé Akong Rinpoché primarily devoted himself to launching a great wave of Dharma activity; he then started a large scale action to help and benefit orphans and the poor all over Tibet and in Nepal; in turn, with the welfare of others as his only purpose, he served the dharma and culture of Tibet chiefly through supporting Tibetan medicine and Tibetan language, founding new schools, monasteries, monastic colleges and so forth.  Besides helping people in need, he strove continuously in Europe and in Africa to further his many activities of therapy, charity and the others mentioned above, working for the sole benefit of others and without ever trying to gain the slightest advantage for himself.  All this highlights how much he was one of those noble beings who dedicate their whole lives to others.  He showed very great kindness to everyone in general and to Tibetans especially, and more particularly to all those with no one in their life to protect them or care for them.
Now fatal circumstances have interrupted the course of the precious life of the Very Venerable Rinpoché, along with those of his nephew and the monk who assisted him.  As mentioned before, although our loss is beyond measure, we should not let ourselves be totally overcome by sadness and grief but continue fulfilling the noble intentions of this holy person of serving the teaching and beings, and I request all of you to do your best to achieve this.  Connected as we are regarding praying for the swift return of this Tulku in a new incarnation, we will devote ourselves to this in the monastic seat of Palpung and its branches; in a spirit of non-sectarianism, we shall also pray to the saintly masters of other religious traditions and address our deep prayers to the Three Jewels and the Three Roots.
Written by the Kenting Tai Situpa at his monastic seat of Palpung Shérab Nampar Gyalwé Ling in India, on the 8th of October 2013.  May this writing be of consequence.
(translated from the Tibetan by Katia and Ken Holmes)
Prayer for the Swift Return of Akong Tulku Rinpoche by Kenting Tai Situpa
Spreading everywhere the sublime activity of the lineage that transmits realisation of absolute truth,
Wearing the armour of pure intention rooted in Bodhicitta, you care for beings and look after them.
You clearly manifest the teachings of the realisation tradition, fully matured within you.
May the truth of whatever aspirations you made be swiftly accomplished.
Working with inexhaustible clarity of intelligence in an infinity of places,
You manifest all sorts of extraordinary skills and qualities
In order to conquer the thick darkness of ignorance which obscures the essential nature of beings.
We pray that this Buddha-emanation which gives us certainty of our own Buddha-nature may quickly return among us.
Holding and upholding the teaching of the practice lineage of the four transmissions
And following the profound example of the extraordinary lives of the great masters of our tradition, you nurture beings.
Through the power of the truth of your former good deeds, aspirations and prayers,
May this tulku who illuminates the teachings of the Victorious One swiftly return.
In response to the sincere and pressing request of Chӧjé Lama Yeshe Losal, on behalf of all the students of Akong Tulku Rinpoche in Tsawa Gang Dolma Lhakang hermitage and Samye Ling monastery along with its various branches, the original prayer for the long life of Akong Rinpoche, composed by the illustrious XVIth Gyalwa Karmapa was reformulated into a "swift return" prayer by the Kenting Tai Situpa with a view to strengthening the blessing power of samaya.  May these wishes be fulfilled!
(translated from the Tibetan by Ken and Katia Holmes, December 2013)
Prayer Message For Akong Rinpoche by His Eminence 12th Khentin Tai Situ Rinpoche.   The video message is in three parts; the message in English until 12:05 followed by the message in Tibetan until 19:17 then closing in English again.