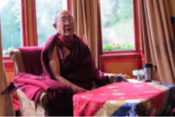 Ven. Panchen Ötrul Rinpoche sends his condolences to Akong Rinpoche's family, his students and all at Samye Ling Tibetan Centre, Scotland.
Akong Rinpoche and Panchen Ötrul Rinpoche have been close friends since they were children in the monastery at Drolma Lhakang in Tibet.  Rinpoche is deeply saddened by not only the sudden loss of his close friend but also by the loss of a man who gave and achieved so much through his humanitarian work.
Akong Rinpoche invited Panchen Ötrul Rinpoche to join him at Samye Ling when Rinpoche was requested by H.H Dalai Lama to go to the West from India.  Rinpoche lived at Samye Ling closely with Akong Rinpoche from 1987-89 before he moved to Ireland.  The previous Akong Rinpoche and Panchen Ötrul Rinpoche were close relatives.
Prayers are being led by Panchen Ötrul Rinpoche since Akong Rinpoche's death (8th October 2013) at Jampa Ling Buddhist Centre, Cavan, Ireland that Akong Rinpoche's aspirations will be carried out. Prayers are also being said in Belfast and by Rinpoche's individual students throughout Ireland for the traditional period of forty nine days.
Message from the office of Panchen Ötrul Rinpoche regarding the death of Akong Rinpoche.
October 15, 2013