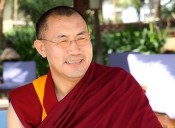 Rinpoche is someone who has done so much for Tibetans and so many things in Tibetan areas, and is also a really close, great friend of myself.
One of the principal things we could do to honour Akong Rinpoche, is for his disciples to put his teachings, his Dharmic teachings and sermons into practice, and putting this into practice is a form of remembering Akong Rinpoche.
Secondly, Akong Rinpoche has done so much all over the world in terms of social service, in terms of providing education and in terms of poverty alleviation, and he has done a great job.  Therefore, for his followers and disciples to perpetuate his achievements and his endeavours would be a great deed.  And according to Tibetan Buddhism we say that when one continues the good, positive deeds of one's Lama, this is the ultimate offering to one's Lama.
In short, the greatest and most effective way of remembering one's Lama is for his disciples to follow his Dharmic instructions and the Dharma, and to achieve great Dharmic practice.  And the second way is to carry out undertakings that benefit others, to undertake altruistic deeds and also to perpetuate the great deeds of Akong Rinpoche.  These are the best forms of remembering Akong Rinpoche.
Extracts from a talk by Khenchen Tsultrim Lodro at the Akong Rinpoche Memorial Conference, Oxford, 25th May 2014