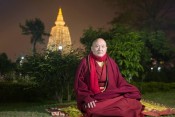 The dharma-lord Akong Rinpoche, brilliant sun illuminating the Kagyu Teachings, devoted his entire life to the noble purpose of serving all sentient beings and the dharma and, more specifically, to spreading and furthering the Buddhadharma in the West; to establishing new schools in many parts of Tibet teaching traditional Tibetan medicine, Tibetan language and a full range of subjects; to helping the poor in Tibet and in many other countries.
From the heart, I beseech you to recollect these excellent deeds, so worthy of praise.  At the same time, while I am deeply saddened by the sudden loss of Akong Rinpoche's precious life and that of two of his assistants on the 8th of October, I urge each and every one of you to contemplate the impermanent nature of all composite things: please reflect on this, all of you, the monks and nuns and the whole community of his seat, now earnestly engaged in prayers appropriate for the completion of his compassionate work of this life; his family, to start with Lama Yeshe Losal Rinpoche, holder of the wealth of the Three Trainings; his wife, children and all his relatives; his disciples both in Tibet and in all the other countries; Rokpa International's directors and workers, all the people in need and their dependants.
It is of the utmost importance that instead of grieving you strive to find the means to ensure the continuity and growth of the outstanding work of this great being.
With auspicious and constant prayers that this may come true, I offer this message of condolences to comfort your heart.
9th October 2013, Dharmachakra Centre, Rumtek.
(translated from the Tibetan by Katia and Ken Holmes)