The Samye Ling Community Celebrates
the 63rd Birthday of
Chamgon Dorje Chang Khentin Tai Situ Pema Donyo Drupa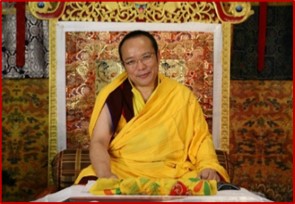 H.E. 12th Khentin Tai Situpa,
considered to be an emanation of Bodhisattva Maitreya
and Guru Padmasambhava (Guru Rinpoche)
This week at Samye Ling we had the pleasure of coming together as a community to offer prayers for the long life and good health of His Eminence 12th Khentin Tai Situpa.
Born amid numerous auspicious signs, to a family of farmers in the male wood-horse year (1954) in the Palyul District of Derge, Tibet, Situ Rinpoche was found and recognized by H.H. 16th Karmapa Rigpe Dorje, in accordance with predictions by Karmapa.
At 18 months of age he was enthroned at Palpung Monastery in Tibet; at age five he went to Tsurphu, fleeing Tibet a year later for India, via Bhutan.  In 1975, at the request of some of his students, Situ Rinpoche established Palpung Sherabling, which later became his monastic Seat in India.
In 1980 he made his first tour to Europe, and has since travelled widely in North America, Europe and South-East Asia teaching Buddhist philosophy and meditation at the request of Buddhist, humanitarian and multi-faith organizations.
H.E. 12th Khentin Tai Situpa and Akong Rinpoche enjoyed a very close teacher-student relationship and in the words of Situ Rinpoche himself "the great monastic seat of Palpung and Dolma Lhakang of Tsawa Gang have been like a mother-centre and its branch, connected by a strong link of pure Dharma and Samaya over many generations."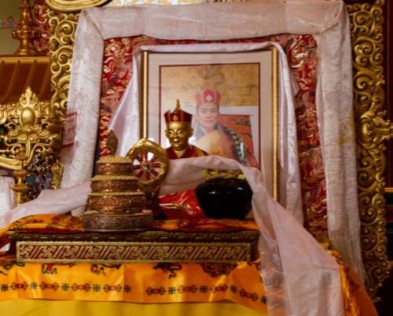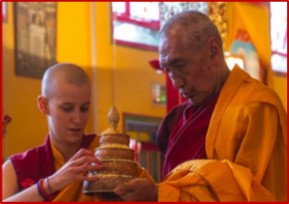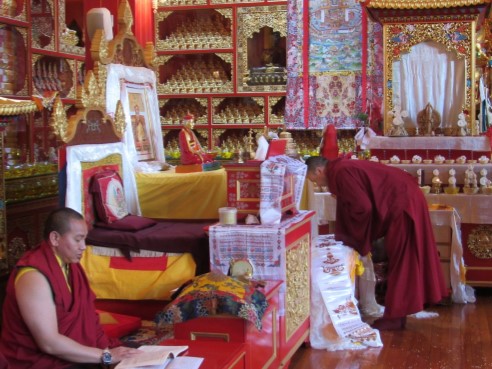 Members of the Samye Ling Community Offering a Mandala on the Occasion of the 63rd Birthday of H.E. 12th Khentin Tai Situpa
In the 1980s and 1990s Situ Rinpoche was extraordinarily kind and generous in visiting Samye Ling, giving significant transmissions and teachings.  In particular, from 1989 through to 1997, in response to Akong Rinpoche's earnest request, Situ Rinpoche gave the transmission of the Saraha tradition of Mahamudra, teaching in detail from The Ocean of Certainty by the 9th Gyalwang Karmapa.
In 1992, the responsibility of discovering the reincarnation of H.H. 16th Gyalwang Karmapa fell upon the shoulders of the Regents H.E. 12th Khentin Tai Situpa and H.E. 12th Goshir Gyaltsap Rinpoche.   Akong Rinpoche was the representative of Situ Rinpoche and, together with Sherab Tarchin, the representative of Goshir Gyaltsap Rinpoche, and others, he played a very important role in finding the reincarnation.
The 12th Khentin Tai Situpa is continuing the traditions of the practice lineage of the Khentin Tai Situpas.  A renowned Buddhist master himself, he is actively involved in training the next generation of Buddhist masters.  On a more personal level, he is a scholar, poet, calligrapher, artist, author, architect and geomancer.