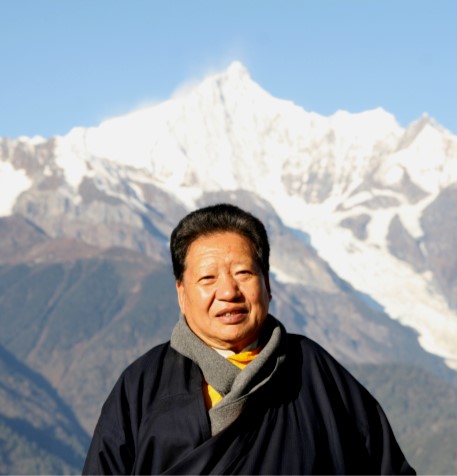 As we celebrate the Tibetan New Year, why not join us in making this world a better, healthier, more compassionate place for all of us and for generations to come?  The more people who join us, the greater the benefit for all of us and all living beings!
Choje Akong Tulku Rinpoche dedicated his entire life to working for the benefit of all living beings.  From the heights of the Tibetan plateau to the Lowlands of Scotland, he touched the lives of hundreds of thousands of people:  bringing hope and spiritual guidance and alleviating suffering wherever he could in this world.
He cared deeply about this planet, Mother Earth, and about the health and well-being of all who inhabit it.  During his lifetime, he set up tree nurseries in Tibet and initiated tree-planting on a large scale.  He set up a project to protect endangered Tibetan medicinal plants from extinction.  He protected sacred sites across Tibet from being exploited or mined, ensuring they have the protection they need and deserve.
Akong Rinpoche also helped to train more than 600 doctors of Traditional Tibetan Medicine, who are protecting and saving lives every day of the year.  And on his frequent visits to Tibet, he released animals, poultry and fish destined for slaughter: returning them to their own environments, allowing them to lead natural lives.
We can't necessarily do what Rinpoche did, but we can follow his example:  out of our devotion towards him and all that he stood for; and out of compassion for the life forms with whom we share this beautiful planet.
Since Rinpoche's passing, many people have chosen to pledge their allegiance to his wonderful vision:
In 2014-2015:
83 people recommitted to being vegetarian
15 people reduced their consumption of meat, fish and poultry for a specified length of time
18 became vegetarian
20 committed to reducing their consumption of meat, fish and poultry on an ongoing basis
In 2015-2016:
17 people became vegetarian
7 committed to reducing their consumption of meat, fish and poultry on an ongoing basis
13 people pledged to reduce or give up alcohol
5 people committed to reducing their intake of alcohol
2 people gave up alcohol for a specific period of time
10 people gave up smoking
4 stopped smoking for a specific length of time
1 person committed to reducing the amount they smoke on an ongoing basis
1 person planted trees in memory of Akong Rinpoche and to help improve the natural environment
 In 2016-2017:
14 people became vegetarian
4 people gave up meat, fish and poultry for a specific length of time
9 reduced their consumption of meat, fish and poultry on an ongoing basis
7 people gave up smoking
4 people committed to reducing the amount they smoke on an ongoing basis
6 people gave up alcohol
9 reduced their intake of alcohol
3 gave up alcohol for a limited period of time
36 people planted trees in memory of Akong Rinpoche and to help improve the natural environment
Why not join us and email us with your pledge at info@akongmemorialfoundation.org